Compass Water Solutions IRVINE, CA, USA

Compass Water Solutions (CWS) serves a global customer base by responding to the voice of the customer using industry leading separation technology that provides value added solutions for meeting water discharge regulations, process requirements, and water purification. We have over twenty five years of experience designing and manufacturing water treatment equipment. Our products include an extensive line of oily water separators, reverse osmosis fresh water makers, industrial waste treatment systems and the associated filtration and separation components. These products are used in a wide range of applications in various industries including marine, offshore oil & gas, chemical, municipal and resort facilities.

unselect all/select all
You have 0 products selected
OILY WATER SEPARATORS
Send enquiry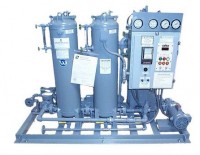 The SAREX OWS Oily Water Separator with Oil Content Monitor is a three-stage coalescer-type system designed to separate and remove non-soluble oil, solids, and entrained air from an oily water solution.